Welcome to VirgoCX Inc., we are happy that you joined us! Please follow the below instructions to register your account quickly and easily.
1. Go to the official VirgoCX Inc. website on https://virgocx.ca/

2. There is a "Register" button on the upper right corner of the page. Click it and it will take you to the registration page.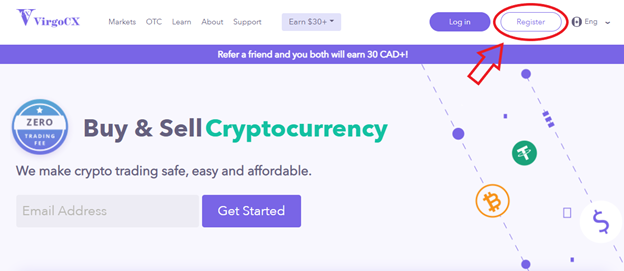 3. On the registration page, please enter the required information:
Email address (cannot be changed once registered).
A strong password that no one can guess.

The password must be between 8 to 15 characters with at least one number and one letter. Symbols are allowed.

A referral code if you have one.
Click "Get Code" and check your email inbox for the verification code.
Enter the 6-digit code you have just received.
Important note:
Please check the spam folder in case you do not receive the verification code.
As a mandatory security measure, our system will generate an email verification code each time you log in. Please check every time you log in and use the code to access your account.
4. Read our Terms of Service and Privacy Policy carefully, make sure you are above 18 years old and have reached the age of majority within your province or territory[1], click the "agree box" (if you agree), and then click "Register" to finish.
5. Congratulations! Your VirgoCX Inc. account has been created successfully! Now, you are one step away from accessing all our valuable services – Get Verified!
[1] The age of majority is 18 in six provinces: Alberta, Manitoba, Ontario, Prince Edward Island, Quebec, and Saskatchewan. The age of majority is 19 in four provinces and the three territories: British Columbia, New Brunswick, Newfoundland, Northwest Territories, Nova Scotia, Nunavut, and Yukon.