As cryptocurrency's popularity grows around the globe, so does the interest of fraudsters and cheaters. Retail investors, speculators, and other institutional investors are all paying attention to the lucrative cryptocurrency markets. In the last few weeks, there has been an increase in the number of crypto fraud incidents, so we want to alert our valued customers. Unlike traditional currency, which may be issued and backed by a government or central bank, cryptocurrency transactions are irreversible and can only be returned by the recipient, which means if you fall victim to a scam, there is nothing we can do to help you recover your money.
Types of Cryptocurrency Scams
Imposter Scams

In these types of frauds, consumers are led to believe they are interacting with a reputable company, such as PayPal, a government agency, or VirgoCX personnel. Once they gain trust from you, they will attempt to get key information, like your private key, or ask you to send money to their digital wallets. Please be careful, if one of these trustworthy connections requests cryptocurrencies for whatever reason, it can often be a sign of a scam.
VirgoCX has recently received several reports about SMS messages regarding VirgoCX transactions. Please be warned that any text message sent to you other than SMS verification codes is a scam; we may contact you through email at support@virgocx.ca, mail@virgoservice.com, or other VirgoCX domain-based email accounts.
When responding to communications, always double-check the email address.

Here is an example of an imposter scam done via email:
Another example of an imposter scam via email.

Please note that no credible company should demand for money in order to withdraw crypto off the platform.
Below is an example of an imposter scam conducted through SMS.
Example of an imposter scam via email using the following website

virgocx@finance-dep.com/virgocx@finance-team.net (fake)

, please be aware if you have received any email similar to the below one.
Example of another imposter scam via email using the following website virgocx@bill-dep.com(fake), please be aware if you have received any email similar to the below one.

Please note that VirgoCX will not prepare any tax filing for our clients. Our clients are required to download all the transactions and provide them to a tax attorney or upload them on any tax software to file taxes. For more information, please refer here.

2. Giveaway Scams
A scammer may compromise or impersonate a well-known public figure or corporation and pretend to be giving out cryptocurrency, then write bogus comments to make it seem like people are getting the cryptocurrency. People may be afraid of missing the opportunity and rush to send cryptocurrency to the scammers before determining whether the offer is real. To enter fraudulent crypto giveaways, you must first pay a certain amount of cryptocurrency to the address provided. In many circumstances, they will guarantee to return double as much as you send. In reality, you will not get anything and never see your funds again if you perform these crypto transactions. Scammers target popular tweets, viral news, and announcements on Twitter and other social media platforms to create fake giveaways (like a protocol upgrade or an upcoming ICO). Below is an example of a giveaway scam in the comments of one of our social media posts.
3. Romance Scams
Scammers often utilize dating websites, or in other cases, they approach you via WhatsApp or other social media platforms to forge a seemingly real long-term relationship. When trust has been granted, conversations often turn to lucrative cryptocurrency opportunities and the eventual transfer of either coins or account authentication credentials, or they will ask you to download fake cryptocurrency apps and invest. You may be able to withdraw a small amount of the money at first, but when you put a larger amount of money into the app and try to withdraw, you will not be able to do so.
4. Fake Websites
There is a surprising number of websites that have been set up to resemble original, valid start-up companies, especially in the case of crypto exchanges. Check every website for a small lock icon indicating security near the URL bar and "https" in the site address; normally it is hidden from the URL bar, and you will need to double click it.
VirgoCX received a report that there are websites such as http://virgocxinvestment.com, https://www.virgocxinvestment.com and https://www.virgo-eth.com, which pretend to be our subsidiary. Please be aware that all VirgoCX websites will be only on our https://virgocx.ca/ domain. Websites that start with anything else are fake and should be reported immediately.

Another fake website: jzald.xyz/#/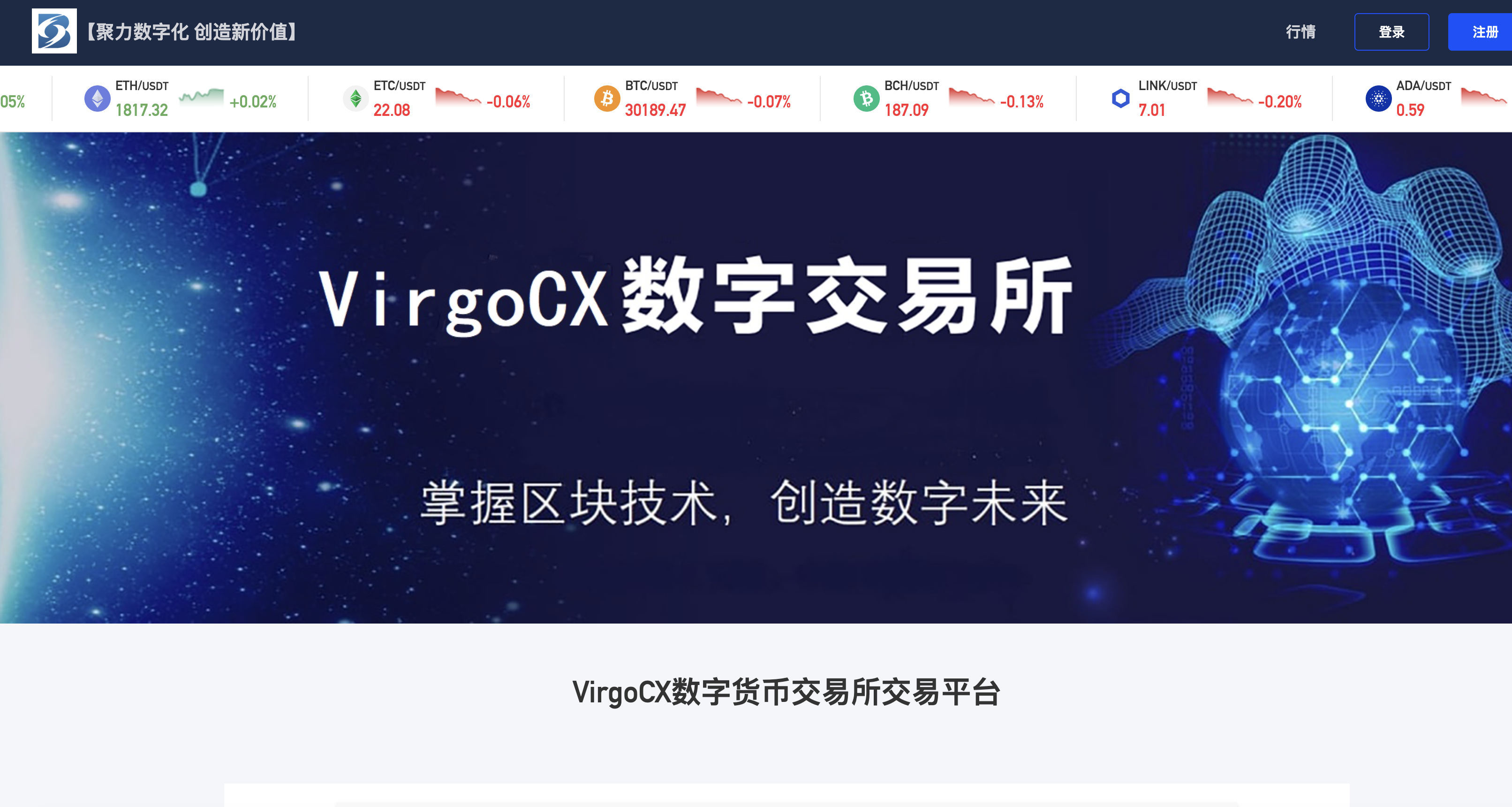 5. Fake Mobile App
Downloading fake cryptocurrency apps on iPhone and Android is another common way scammers trick cryptocurrency investors. These apps will either resemble certain crypto exchanges or they will ask you to deposit money to retrieve your money or receive the winning prize.
Every investor should be aware of the possibility of fake mobile apps. Be wary of obvious misspellings in the copy or even the name of the app. Furthermore, does the branding look inauthentic with strange colouring or an incorrect logo?
VirgoCX only has one app in the App Store and Google Play. Note that there is no space between "Virgo" and "CX". We will not require customers to fund their accounts before withdrawing money. Below is our logo:
Fake App Download Link: https://dd1.uwqyt.xyz/d4/virgocx.apk
6. Phishing Scams
Phishing scams are designed to steal information about online wallets and their account credentials. Specifically, scammers are interested in the private keys of crypto wallets, which are the keys required to access the wallet's assets. Their method of working is similar to many common scams. They send an email that leads the holder to a specially created website (phishing websites that resemble original valid exchanges' websites) that asks you to enter private key information or your account credentials. Once the scammers have acquired this information, they can steal the cryptocurrency stored in those wallets or log in to your account to withdraw your cryptocurrency.
7. Copy-and-paste Malware
This type of malware hacks your clipboard data, and if you aren't careful, you will send money directly to scammers.
Example: Let's imagine you want to make a crypto transaction, and as usual, you copy and paste your crypto wallet address. If your device is infected with copy-and-paste malware, however, the scammer's address will immediately replace your address when you paste it. This implies that your crypto payment will be in the scammer's hands as soon as it is transmitted and verified. Always double-check your wallet address's first and last 4-6 digits before sending your crypto.
8. Investment or Business Opportunity Scams
Countless profit-seeking investors gravitate to dubious websites that promise guaranteed returns or other schemes in which investors must deposit large amounts of money in exchange for even higher assured returns. While money flows freely in, these phony promises often result in financial disaster when people want to withdraw their money out and are unable to do so. This scam can also be combined with romance scams.
VirgoCX has been seeing social media scam attempts as well. Please be wary of accounts impersonating as VirgoCX or its employees. VirgoCX will never provide investment advice in any form. Employees will also never individually contact you via social media. We have attached an image of an account impersonating our CEO in attempt to scam our users.

Please check our official social media channels below:

Twitter

: https://twitter.com/Virgocx

Reddit

: https://www.reddit.com/r/VirgoCX/

Facebook

: https://www.facebook.com/virgocxofficial

LinkedIn

: https://www.linkedin.com/company/virgocx/

Instagram

: https://www.instagram.com/virgocx_official/

Recent instances of fraud involving certain "brokers" who help our clients create accounts in exchange for a fee have come to our attention. Note that verification and registration are free of charge. If you have experienced any problems with registration or verification, please contact us at support@virgocx.ca or through LiveChat; we are always happy to assist. This type of "helping" also grants account access to purported brokers, allowing them to take funds without authorization. To best protect your asset, please keep your account credentials private and do not disclose them to anybody.
Name of the scammers VirgoCX identifies:
AeroTradeFX.com
Alfabtc
ArkCoin.cc
Aurora Capital Finance
Aurora Coins
Axis Capital Group
Buf
CapitalRound.io
CashFXGroup
Central Margins
CFD
CFH
Chelsea Investments
COINGI PRO
CoinWealthInv.com
Cryptoneyx.io
CryptosBid.com
Cryptoseed
Cryptospair
Crypto Sphere
EmpiresX.com
GateBits
Gigachains
GMgroup
GrandPacificTrade.com
GSPartners.global
HCCoin
HKCoin
Invest Think
Invest-Xo.com
iPrimeCapital.com
JPCrypto
JPMGEX.com
Kineproap.vip
LedgerXFX.com
Linitybase.com
Monafoli
Olympus 4x
Pacific-Funds.Ltd
Paybito
Polonxp.vip
PrimeOakmont.com
Royal Oak Investments
TimeX
TheBusinessiCenter.com
TheHyperFund.com
TopMarketCap
TradeBaionics.net
TrendingGAP
TrueNorthBit
VideForex.com
Virgocxs.vip
YieldNodes.com
7seafx.com
Signs of a Potential Crypto Scam
:
A guarantee that you'll make money

Big payouts with guaranteed returns

Free money

AML fee/withdrawal fee

Mirror transaction

Tax fee

Absent or unidentifiable registration/license numbers

The use of a remote-desktop software (i.e. AnyDesk)

Sudden complications when requesting a withdrawal (i.e. request that the client first make a deposit, pay a tax, or more)

Bait deposits

A proportionally small deposit sent back to the client to establish trust and legitimacy.

Changing communication channels

Being bounced from one advisor to another, or being reached at with ever changing phone numbers (including different area codes)

Big claims without details or explanations

If you happen to see a big investment that promises to offer you a big amount of money but no or little details or explanation, be skeptical.

Being told how to communicate with other platforms.
Recognize any of those terms? You may be the victim of an investment scam.
Measures to Prevent Falling for a Cryptocurrency Scam:
Don't invest in a virtual currency or cryptocurrency until you fully understand how it works, and don't speculate with money you can't afford to lose.

Don't invest in or trade cryptocurrencies based on advice from someone you've only dealt with online.

Don't share your "private keys"; keep them in a secure place (preferably offline, where they cannot be hacked).

Do not send cryptocurrencies to third-party wallet addresses.

Always check that the domain address you are visiting has

https://virgocx.ca/

.

Don't click links or open unknown attachments in emails.

Make sure you have installed anti-virus software and keep your operating system up-to-date.

Don't participate in any kind of giveaway where you're required to send something of value first. Legitimate giveaways will never ask for funds.

Make sure you have enabled multi-factor authentication on your account.
*Please be aware that fraud cases are not limited to the aforementioned cases.